Destination Hélianthal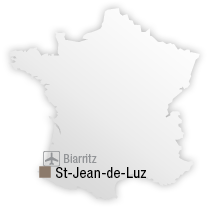 "Hélianthal" Hotel & Spa, in the heart of Saint-Jean-de-Luz, is an ideal base for discovering the Basque country and Spain. Stroll along the narrow streets in the seaside resort and visit the Saint Jean-Baptiste church, where Louis XIV married Maria Theresa of Spain in 1660.
Immerse yourself in Basque traditions in the Saint-Jean-de-Luz Ecomuseum.
Not far from Saint-Jean-de-Luz, set out on a pre-historic journey in the Sare grottos. Then treat yourself to a tasty snack at the Basque Cake Museum.
In Biarritz, plunge into marine life at the Museum of the Sea & at the Museum of the Ocean and the Surfing.
Spain is just a few kilometres from" Hélianthal" Hotel.
Soak in the atmosphere on La Concha or in the tapas bars of San Sebastian, or visit the Guggenheim Museum with its dazzling architecture in Bilbao.
Enjoy the mild Basque climate as you discover the numerous natural sites near Hotel Hélianthal.
Ascend to the top of the mountain in the Rhune rack-railway train.
From the top, admire the view of the ocean and the southern coast of the Landes.
Take the coastal path, from Bidart to Hendaye, passing through Guéthary, Saint-Jean-de-Luz, Ciboure and the Fort de Socoa, and breathe in the sea air in a preserved environment.
Between the Atlantic and the Pyrenees, the Basque land and coast offer diverse landscapes, traditions, unique and picturesque sites.
Visit Sare, Espelette, Arcangues, Ainhoa, ..., to discover the Basque hinterlands.
The Atlantic ocean is the meeting place for surfers. Stay at "Hélianthal" Hotel, in Saint-Jean-de-Luz to practise surfing or sailing. On the Grande Plage, numerous activities are possible, along with clubs for children in the summer.
Don't miss the many events such as the Festival Andalou, Feasts of Saint-John, international of Pelota of Cesta Punta, the International Maurice Ravel music academy, Music in Basque Coast, the International Film Festival, Le Temps d'Aimer (a dance festival in Biarritz) or the international Festival of the Voice.
Réservez
votre séjour

Free access
to wellness area
> Indoor heated seawater pool
> Jacuzzi
> Sauna
> Steam room
> Fitness room
Informations pratiques
Hôtel Hélianthal****
Place Maurice Ravel
64500
Saint-Jean-de-Luz