Destination "Baie des Anges"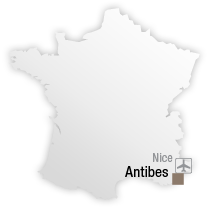 Welcome to Antibes, a Mediterranean jewel perfectly located between the sea and the mountains, in the foothills of the southern French Alps.
This luxury seaside town with its coastal fortifications offers an exceptional setting and climate.
Boasting a rich 2,600 long-history, this Côte d'Azur town is a haven of peace for visitors wishing to unwind and recharge.
Inland, there are many opportunities for unforgettable trips to the famous medieval villages of Saint-Paul de Vence, Gourdon, Biot, and more. Not to be missed are Grasse, the perfume capital of the world, and Cap d'Antibes with its little coves and its sumptuous panoramic view over the Baie des Milliardaires (Billionaires' Bay).
Creative workshops
- Glass-making workshops in Biot. Become the master glass-maker's assistant and get a brief glimpse into the crafting of a small glass piece.
- Fragrance workshops in Grasse. Become an apprentice perfume-maker and enjoy an unforgettable sensory experience producing an eau de toilette using aromatic, citrus and orange blossom notes.
The charm of the coast and its interior make for an original and diverse destination.
Biot: The city of glass, Biot's charm lies in its rich heritage.
Cannes: Here you will find the palatial hotels of La Croisette, stones imbued with history in the old town, the authentic old fishing port, and the radiant beauty of the sun-drenched islands and beaches.
The" Iles de Lérins": Legends and nature, an oasis of freshness and calm, far from the hustle and bustle of the coast. These islands comprise the cosmopolitan Sainte Marguerite, and Saint Honorat, a haven of peace and tranquillity and home to a community of Cistercian monks, the producers of a wine that is sold worldwide.
Saint-Paul de Vence: This city of art and design offers picturesque views of the surrounding hills, the Côte d'Azur and the Mediterranean.
Old Nice: Besides it rich history, old Nice's key attraction is its thriving, typical markets: the old market, the fish market, the flower market, and Saleya square.
Grasse: Grasse is the perfume capital of the world. Here, Fragonard, Galimard and Molinard unveil the secrets of perfume-making.
Gourdon: This hilltop village dates back to antiquity and offers a magnificent panoramic view from Antibes to Cap Roux.
Marineland: Marineland, in Antibes, is the most famous park in the "Provence-Alpes-Côte d'Azur" region. Created in 1970, the largest marine park in Europe offers the opportunity to discover some of the world's large marine mammals, such as dolphins and killer whales, along with sharks, seals, polar bears and a whole host of creatures that inhabit our oceans.
Réservez
votre séjour

Free access
to wellness area
> Indoor heated seawater pool
> Jacuzzi
> Sauna
> Steam room
> Fitness room
Informations pratiques
Hôtel Baie des Anges****

770 Chemin des Moyennes Breguières

06600 Antibes